4 Ways To Grow Your Brand With LinkedIn
April 13, 2016 8:54 pm
4 WAYS TO GROW YOUR BRAND WITH LINKEDIN

LinkedIn debuted in 2003 and rapidly became the social media platform-of-choice for business executives, exceeding the one million users mark nearly two years later. Over the next decade, the "place to put your resume" expanded into the world's largest professional network, which today includes over 414 million members.
With the introduction of Company Pages, LinkedIn became a place for businesses to introduce their brand and their company to the globally "Linked" community. A website is the online representation of your brand. Today, a LinkedIn Company Page functions as a website within a built-in network, and a direct extension of your brand. This incredible online asset enables b2b organizations to engage directly with decision makers and influencers in their respective industries, to deploy diverse content (text, visual, video, presentation) to a worldwide audience, and drive selling opportunities. Used effectively, LinkedIn is one of the most powerful business development tools in a b2b brand's arsenal today.
So why aren't more b2b companies fully leveraging the power of LinkedIn?
The answer appears to be a simple one . . . Time. As LinkedIn has evolved, it has become incrementally more effective as a business and brand-building engine. Unfortunately, it has also become more complex. It takes time to fully understand the features of the platform, and to properly apply those features to one's business and brand. However, it is time well spent.
Here are Four LinkedIn Brand-Building Strategies You Can Apply Right Now:
CHANGE THE MINDSET

Many sales teams, especially those working in established or niche industry segments, view LinkedIn as "one more thing I have to do." Change that mindset. LinkedIn is not an "additional task;" it is a replacement task to lead identification, validation and cold calling. And it is far more efficient, as you can set up parameters to enable LinkedIn to "tell you" if a new prospect emerges. Check out the "Save Search" feature (top right) on the "Advanced Search" screen. You can set up as many as 10 lists of prospects using the Advanced Search feature, and then save them. LinkedIn will automatically alert you when new LinkedIn profiles emerge that meet your list criteria. Essentially, LinkedIn is informing you whenever a new prospect enters your network.

FULLY LEVERAGE YOUR COMPANY PAGE WITH CONTENT

Your LinkedIn Company Page interacts with the rest of the world through content. Sometimes, companies struggle with the task of developing and sharing new content on a regular schedule. While time-consuming and at times challenging, content is the lifeblood of b2b online activity, and LinkedIn is the perfect platform for sharing your message in a highly targeted manner.

Fresh content drives your brand online, like a laser-focused sales force that never sleeps. LinkedIn-savvy companies engage their Company Page followers and connections through quality, compelling content. Organizations can draw substantial new business activity by spreading content through sharing features like LinkedIn Company Updates in addition to Product Showcases (dedicated pages that spotlight a brand or product). Content also spreads to your followers' connections. Their network sees your LinkedIn company updates as well, further magnifying your exposure and the reach of your message.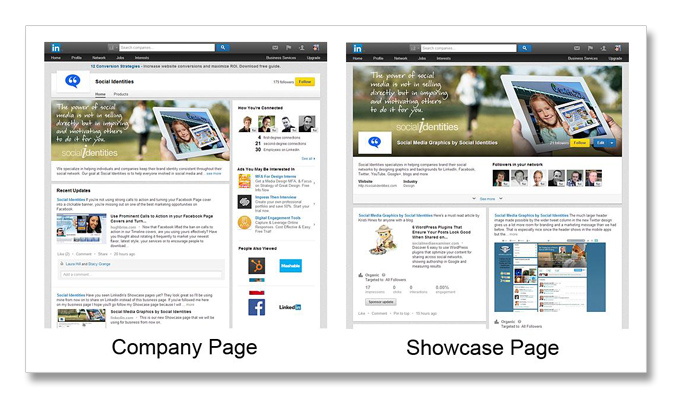 Great content is vital to growing a business, which is why it's central to the services we provide our b2b clients. Whether a new product or service announcement, a customer testimonial, industry insights, a case study, helpful tips, or a short how-to video, brand-centric content drives conversations and leads to more business.
Your company blog is the HUB from which content can be developed, published, and then promoted to your LinkedIn Company Page as updates. Start with a once-per-week blogging schedule and updates calendar, and then escalate the effort from there.
OPTIMIZE LINKEDIN CONTENT FOR SEARCH

You already know the importance of keeping your website pages optimized for organic search to draw traffic for the search terms most important to your business. Many of the same rules apply to LinkedIn Company Pages and content.

Google and other search engines prefer to rank results from well-established platforms like LinkedIn. That's why it is important for b2b businesses to keep their Company Pages updated with new content. These updates, when properly optimized, regularly show up in Google search results. For new products and services, this translates into rapid visibility, and the opportunity to edge out competitors who are less LinkedIn-savvy.

Content also can be repurposed. If you have a YouTube channel, videos developed for that platform can be used in LinkedIn Company Updates. Do you have a great visual or info-graphic you would like to share? Make it clickable in a Company Update and direct visitors to a website landing page, contact form or ordering page. Presentations also can be easily incorporated into LinkedIn Company Pages through SlideShare, or as a PDF file upload.

ENABLE EMPLOYEES TO EXTEND YOUR BRAND ON LINKEDIN

Employees are an extension of your company and your brand. When employees link to your company page, they further build out the collective network. The bigger the network, the more opportunities for people to find your company page and engage with your content. Your brand (and logo mark) is also displayed in their profiles.

Some people are more inclined to form an opinion about a company from an employee vs. an "About Us" page on the corporate website. Be mindful that a prospective client may even interact with an employee before reaching out to upper management. Therefore, it is important to ensure that your personnel are properly conveying your brand on their LinkedIn profiles. I'm not suggesting that they all look exactly alike. Rather, having some general guidelines about how they represent your brand on their LinkedIn profile will help ensure that the values and position of the brand are properly reflected.

You also can encourage employees to discuss your company and share content on their individual LinkedIn profiles. In this way, they will directly support spreading the word (in compliance with corporate policy) so that people and businesses in your space are aware of what is going on in your organization. It also helps your employees show LinkedIn activity, with frequent, updated content. It is a win-win opportunity.
To borrow a metaphor from General Creighton Abrams: "When eating an elephant, take one bite at a time." You don't have to take on LinkedIn all at once. Take it in "bites" and start with small steps. Look at your LinkedIn presence with "brand-centric" glasses, and see your company the way the rest of the world does. I hope that this will give you the motivation to get on the LinkedIn path, stay on it, and use it to take your business and brand to the next level.
We're here to help. Call 908-534-9044 (and ask for Ed), email edelia@www.delianet.com, or fill out the form below and we'll be in touch with you directly to discuss your brand, and how to best position it on LinkedIn for next level success.
Interested in learning more about this subject?
Please fill out the form and we'll be in touch as soon as possible.