Brand Leadership Solution® Awarded Trademark
October 10, 2017 3:30 pm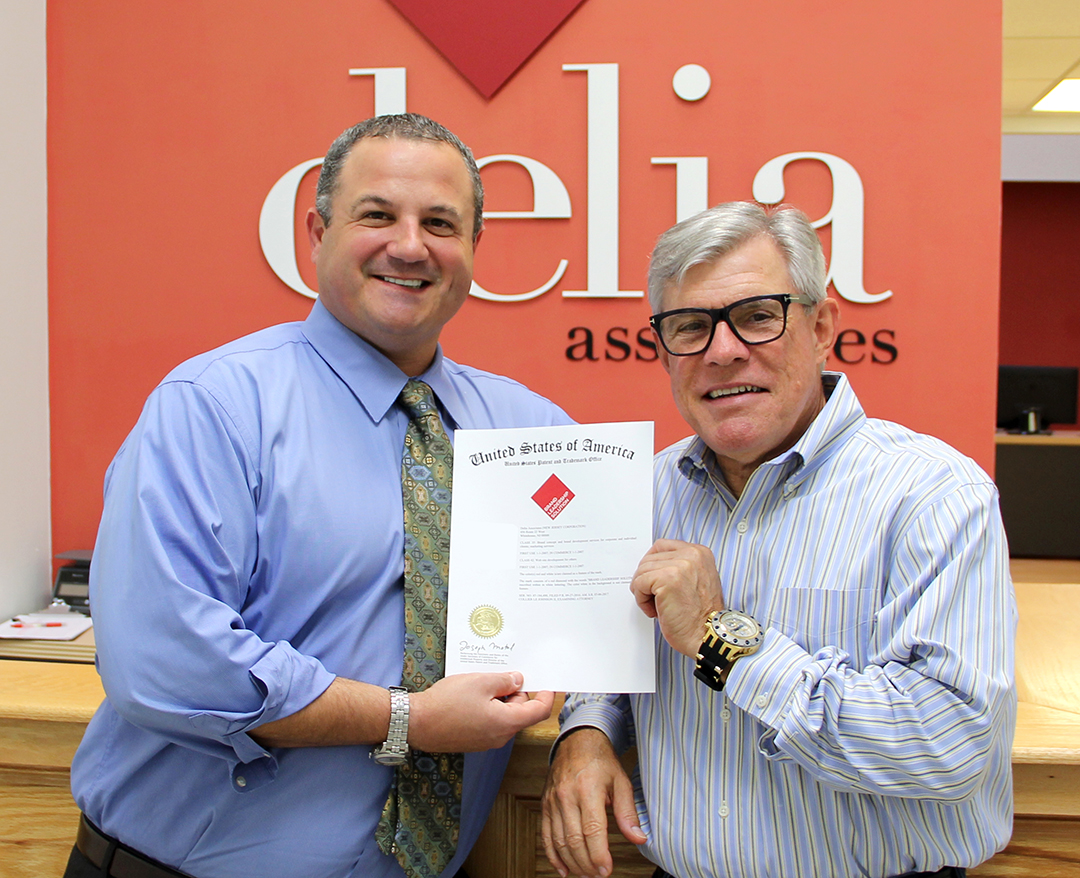 (Whitehouse, NJ – October 2017) Delia Associates, a business branding and marketing firm, received notification from the US Patent & Trademark Office, that its proprietary brand development process is now a registered trademark. The news came only days before Delia Associates entered its 54th year in business; the company was founded October 11, 1964 by Michael A. Delia, father of current President Ed Delia.
The Brand Leadership Solution® is a four-step brand development process that enables companies to achieve uncommon distinction and sustainable growth. While the origins of the process trace back to 2000, it was first commercially used in its current form in 2007. Since its inception, over 200 brands, ranging from corporations to products, to individuals, have successfully been developed or revitalized through the Brand Leadership Solution®.
"We're very proud of this recent accomplishment, as the Brand Leadership Solution® is so foundational to our work here," commented Ed Delia. "It's really what differentiates us from other firms. While many companies provide branding services, very few offer a true, proven and comprehensive brand development system."
Delia continued, "The foundational system has substantially advanced over the years, and we will continue to evolve and refine the methodology." Rich Palatini, Delia Associates' Director of Brand Strategy & Creative, has been instrumental to the evolution of the Brand Leadership Solution in recent years, enabling it to become the powerful offering that it represents in its current form today. Palatini joined the firm in 2008, and his impact on the company's brand development approach was immediate and is ongoing. "Rich has an amazing creative mind, and a true gift for developing brands," Delia noted.
It's not often in business where you can claim a 100% success rate. Delia added, "We have yet to have a client go through the process and express anything but delight in the results. We're very proud of this, and work very hard to maintain a high standard of excellence."
When asked why companies decide to engage in the brand development process, Delia indicated that the reasons are most often event-driven: "Something happens to the company that causes its leadership to reflect on their brand and position in the market. This could be a negative incident, such as competitive pressures or other disruptions that are eroding market share or margins. It could also be a positive occurrence, such as reaching a milestone year, a management change, a merger, or a key acquisition. Whatever the driver, it will inevitably prompt leadership to take stock of their brand image, and realize that improvements need to be made in order to stay competitive and relevant."
ABOUT DELIA ASSOCIATES®
Founded in 1964 and based in New Jersey, Delia Associates is a second-generation lead business branding and marketing firm specializing in brand development, website development, content, and search marketing. Clients range from global to regional business-to-business companies, with an emphasis on manufacturing organizations. The firm's proprietary Brand Leadership Solution®, a unique brand-based marketing platform, has helped hundreds of brands establish market distinction, generate increased demand, and achieve sustainable growth.
For additional press information, please contact:
Ilena Della Ventura
Delia Associates
908-534-9044
---
For more information about the Brand Leadership Solution® and how you and your company can get to their next, call us at (908) 534-9044 or fill out the form below:


Interested in learning more about this subject?
Please fill out the form and we'll be in touch as soon as possible.