Delia Brand-Ism #6: Maximize Brand Exposure in Search
July 19, 2016 2:53 pm
In B2B Brand Marketing, There's No Magic Pill.
(If there were, we would have gotten a prescription a long time ago.)
At a recent presentation, I was asked: What does Google's decision to drop right rail paid ads mean for brands? Recently, Google removed right rail paid ads, in favor of placing paid ads at the top and bottom of a search page. The effect essentially pushes organic search engine results further down the page, especially when Google Places comes into play.
Since this change occurred, there has been much speculation about its long-term effects. If page one of a Google search becomes increasingly dominated with ads, will viewers learn to automatically begin an organic search on page two? Will the rise of more aggressive ad-blocking mechanisms make the point moot, as viewers block out paid search similar to SPAM? Or will Facebook and other social platforms create stronger inroads to search? The future, especially when it comes to B2B search, remains uncertain.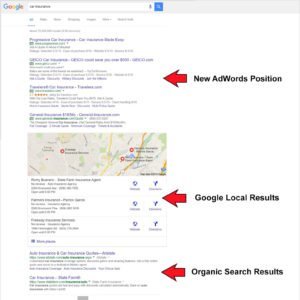 Here's what we recommend to our search clients:
Instead of fretting over what Google or any other search or social platform might do next, recognize that there is no Magic Pill. For many years, B2B brands were able to effectively compete in search through tried-and-true organic search tactics, and smart use and optimization of content. The steady rise of paid search (even for B2B brands) is changing all that. Effective search marketing – usually undertaken to drive quality inbound inquiries and leads – requires a balanced approach. That's especially true, given the latest Google development.
I'm not suggesting that B2B brands start blindly pouring money into Paid Search for positioning, as that can quickly lead to concerns about a B.O.A.T. effect: Break Out Another Thousand. When executed poorly, paid search for B2B brands can be a bottomless pit into which money disappears daily.
When it comes to B2B search, we have always and continue to endorse a B.U.I.L.D. approach: Balanced & United in Lead Development. It really comes down to an integrated array of search and engagement tactics, all designed to work together, to generate the most awareness and the best leads possible.
In keeping with our Acronym theme, consider the P.O.S.E. approach to a balanced, effective search program:
P.O.S.E. = Paid, Owned, Shared, and Earned.
Each category of tactics supports a B2B brand's online presence, and can facilitate quality lead generation.
PAID
When brands pay to have visibility by a particular audience.
Examples: Paid Display Ads, Pay-Per-Click, Paid Social, Digital Directories
OWNED
When brands own, control and manage online assets in their entirety.
Examples: Corporate website, Product or Service website, Subject-specific blog or site, Branded Content, On-Site Organic Search
SHARED
When brands are engaged with audiences in a manner that facilitates shared and equal control over message and medium.
Examples: Social Media Sites, Public Forums, Shareable Content
EARNED
When brands convince or enable external media to generate visibility for them.
Examples: News articles, Press mentions, Off-site Organic Search (Ex: Back Links)
It's always important to be aware of the announcements from Google, as it currently represents approximately 70% of global search. And it is also important to bear in mind that while marketing tools and tactics continuously evolve, foundational rules of the marketing road remain unchanged. In this case, stay balanced, don't put all your eggs in one basket, and "smartly" introduce paid search into your P.O.S.E. mix.
FOUR TIPS TO MAXIMIZE B2B PAID SEARCH ROI:
B2B Paid Search Tip 1: Unless you're introducing a new product or service, don't spend your paid search dollars purely to create brand awareness. Instead, use them to define specific products, services and solutions to an equally defined audience. Make sure the landing pages are well optimized to engage clicks, and as you should do with all tactics, measure and monitor effectiveness. It's also important to remember that while Google is reshaping above-the-fold Search Engine Results Positioning (SERP), many long-tail keywords remain an open playing field for B2B brands with active organic search programs.
B2B Paid Search Tip 2: Do you have a tradeshow coming up this fall? Employ the "tradeshow multiplier" and buy keywords associated with the show to promote specific products and services that your company is presenting at the event. Then, set up a landing page promoting your company's presence at the show, with opportunities for attendees to start engaging with you before the event even begins.
B2B Paid Search Tip 3: Incorporate remarketing as part of your paid search strategy to trace prospects as they are searching you, and then searching your competitors. Working in this manner, you continue to make relevant brand impressions in a highly targeted manner.
B2B Paid Search Tip 4: Don't be immediately scared off by high cost-per-click estimates. The actual cost per click is frequently much lower, and typically half the estimated bid price. Working with a firm and personnel that are Google Adwords and Analytics Certified and experienced in creating and running effective B2B paid campaigns (like us 🙂 ) is one sure way to maximize your 'paid' budget and getting the best possible return.
For a complementary assessment of your current website or search marketing program, fill out the form below or call Ed at 908-534-9044.
[contact-form-7 id="161″ title="General"]
Just in case you missed our other Brand-isms:
Brand-ism #1 – What Matters Most? Great Brand Messaging
Brand-ism #2 – Emotion: A Stronger Driver For B2B Brands Than You Can Imagine
Brand-ism #3 – Great Relationships Make Brands Great
Brand-ism #4 – Every Brand Interaction is an Opportunity to Start or Strengthen a Relationship
Brand-ism #5 – B2B Marketing Content Kick-Starter Guide
Interested in learning more about this subject?
Please fill out the form and we'll be in touch as soon as possible.