What Can Be Learned from a Socially Relevant and Politically Correct Redesign of the Animal Crackers Box?
August 30, 2018 6:43 pm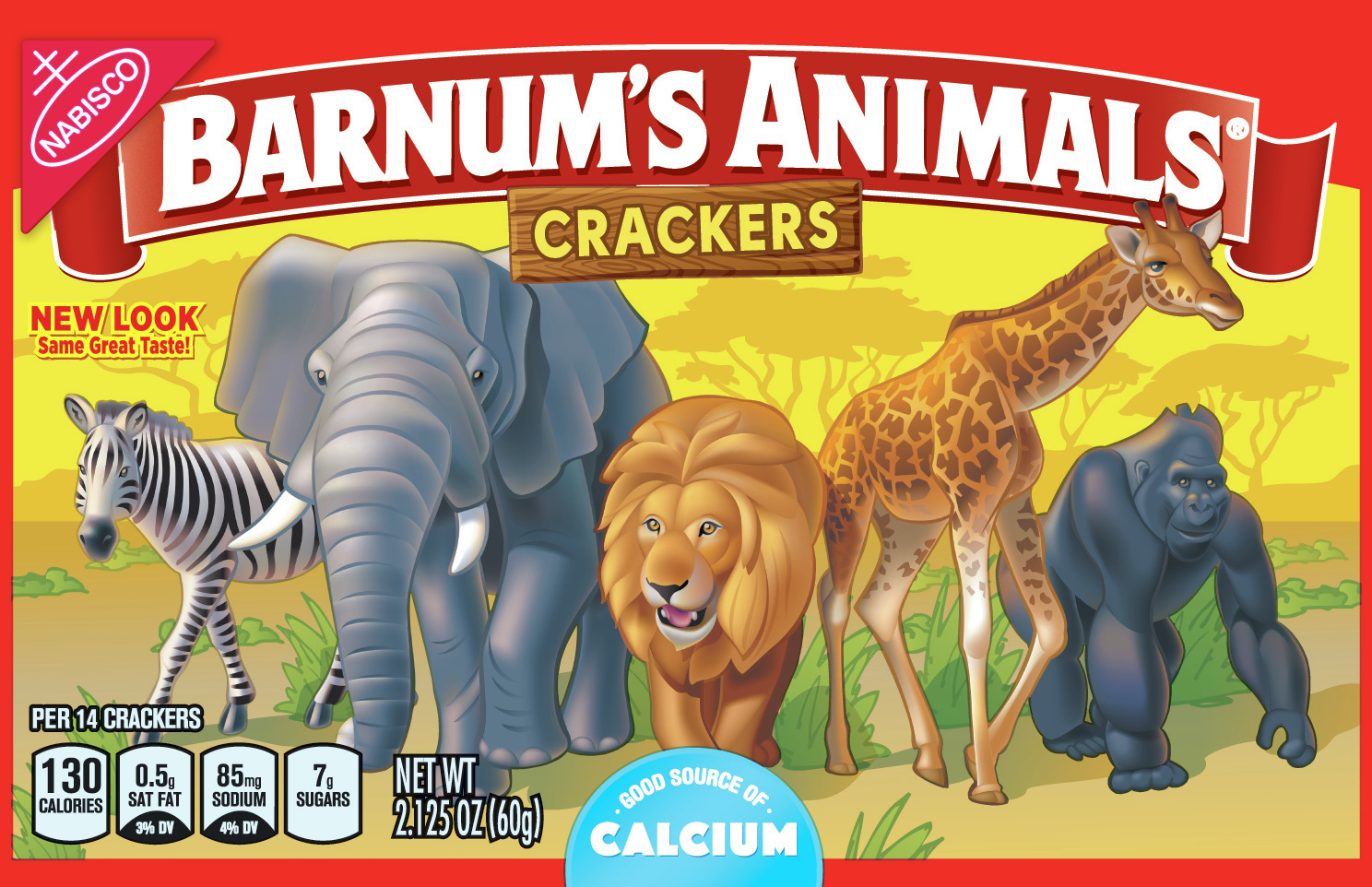 By Rich Palatini, Director, Brand + Creative
The Ringling Brothers and Barnum & Bailey Circus is gone but Barnum's Animal Crackers lives on. More than 115 years old, the crackers in the iconic red box haven't changed, but the packaging has.
Dramatically.
And the tale of its transformation demonstrates the importance of brand authenticity, relevance and collaboration.
The legacy artwork represented the traveling circus, its animals, and how they were housed and transported from show to show – in cages. Towards the end of its performing life, Barnum & Bailey Circus earned a reputation for treating their animals horribly. It drew the anger and criticism of many animal rights organizations and circus goers, whose love of these wild animals was a big attraction.
Along with declining attendance, Barnum & Bailey's mistreatment of the lions, tigers, elephants, giraffes, zebras and other animals had a profound influence on its decision to fold up its tents, so to speak.
The crackers are another story. Beloved by "children of all ages" as the ringmaster used to say at the start of each performance, the Barnum Animal Crackers packaging began to come under the same criticism as did the circus itself.
Were the crackers being mistreated like their real life counterparts?
Of course not.
But the negative perception of the circus was being transferred to the cracker brand because of the name and artwork.
Enter PETA, the animal rights organization, who reached out to Nabisco's parent company Mondelez to suggest a packaging change was needed. Rather than listen politely and move on, Nabisco smartly suggested collaboration with the organization to update the packaging art. Following discussions that even included a new box design submitted by PETA, Nabisco redesigned and recently debuted the new animal cracker packaging.
What remains is the name, proudly dominant in white, curved lettering on the traditional red banner and framing.
What's gone are the bars and cages. In their place are "free range" images of a zebra, elephant, lion, giraffe and gorilla roaming the golden-hued plains of the Serengeti.
So, what's the takeaway from this happening?
Quite a few actually.
Remember that today your customers own your brand. Especially the ones that are emotionally connected to it. So it's important to engage, listen and respect their opinions and suggestions.
B2b or b2c, it doesn't matter. Listen and learn.
They can be your strongest advocates or your harshest critics.
Which would you choose?
Thought so.
Next, be open to change.
Smart brands are sensitive and responsive to changing attitudes and social zeitgeist.
Smart brands evolve. Sometimes in small ways and other times more boldly. It can be as simple as a minor change in a logo typeface or as dramatic as a full brand makeover.
Smart brands don't stand still. Your customers and their needs are forever changing and so should you.
And when problems arise with your brand community and you, embrace them; own them; and solve them.
Be understanding.
Be open.
Be responsive.
And be out there.
Go social; on every platform where they gather.
Let them know they're recognized, heard and valued. Then set out to exceed their expectations.
Put them first and they'll do the same to you.
Now, where'd I put my milk and crackers?
Interested in learning more about this subject?
Please fill out the form and we'll be in touch as soon as possible.