B2B Marketing: How a Simple Definition Drives Growth
December 1, 2020 5:50 pm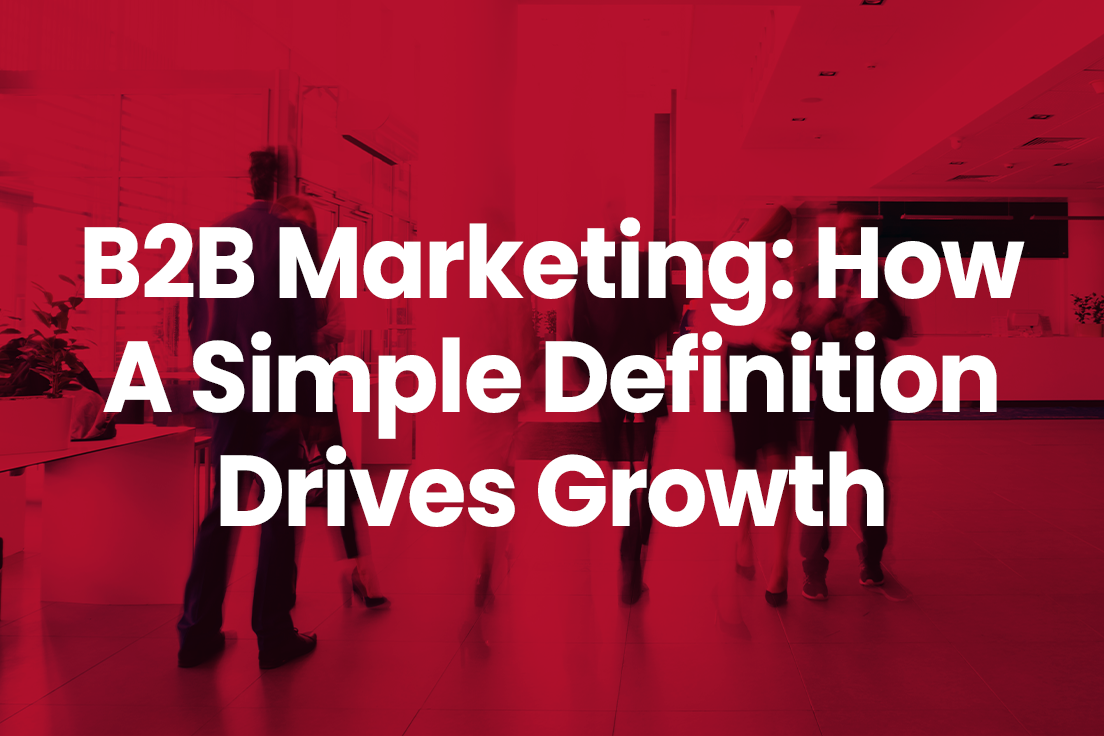 What is B2B Marketing?
If you ask Google, you will get thousands of results ranging in complexity and scope. And while some of the definitions I've seen have merit, they are mostly too far removed from helping sales and marketing executives achieve their number one goal: growth.
I have found that this simple definition creates greater learning opportunities, helping organizations stay on track and grow sales:
"B2B Marketing is any action an organization takes to create or extend a buying relationship."
As a sales and marketing leader, if you can't pinpoint how an action will do either of these things or how to measure it, then it likely means 1) It may not be a great initiative to take or 2) It may not be a great initiative to take right now.
There are many pathways to grow sales. But with so many competing priorities and possibilities, it's sometimes impossible to know which paths produce the best results. By using this simple definition as your guide, you can make the best determinations for your organization.
Let's look at how this definition can drive your social media strategy. When done right, social media engages ideal followers, turning a segment of those followers into prospects and ultimately paying customers. To succeed, you must have a reliable system that measures the impact of your actions at every step. For example, if you want to grow ideal followers on your LinkedIn corporate or personal page, you must determine what motivates one to follow you to begin with, so you can repeat those actions. Next, decide what series of actions convert a follower into a prospect; and the subsequent steps that move a prospect to a decision (preferably a close). In this light, social media is not a marketing activity; rather, it is a system for creating new buying relationships. And once you figure out the process that works best for your organization, you can measure it, optimize it and repeat it to achieve relatively predictable outcomes.
Using this thought process, you can view all marketing initiatives as a series of systems. As other examples, trade shows and virtual events are not always definitively measured, leading to missed opportunities. An event that does not yield immediate results may be scrapped based on the misconception that "We didn't get anything out of it."
We all know that sales cycles can be long and ROI difficult to measure. You may need to reexamine your actions and how to measure them. In this example, what action converts visitors into customers? Simply following up with generic calls or emails is not enough! Instead, predefine a system in which a communications sequence is strategically sent to visitors. This creates a prospect funnel, engaging and cultivating potential customers over time. The lifetime value of winning an account is a better measure than immediate ROI.
Also, don't neglect existing customers; you have a golden opportunity to engage outside the usual selling cycle. Leverage that opportunity to offer something new and exclusive, further solidifying and extending your relationship.
Remembering this simple definition can bring focus and organization to your marketing efforts, accelerating and supporting sales outcomes. Further, evaluating each action as a system and measuring it will lead to a more structured connecting of the dots between sales and marketing.
You are creating a series of efficient systems that together form one marketing machine that drives organizational growth. Every time you successfully start or extend a buying relationship, you move yourself, and your brand, toward another level of prosperity.

Are you ready to grow? Simply give us a call at 908-534-9044 or get in touch with us

here
.
Interested in learning more about this subject?
Please fill out the form and we'll be in touch as soon as possible.