The #1 Reason Why B2B Brands Fail at Marketing
September 24, 2020 5:39 pm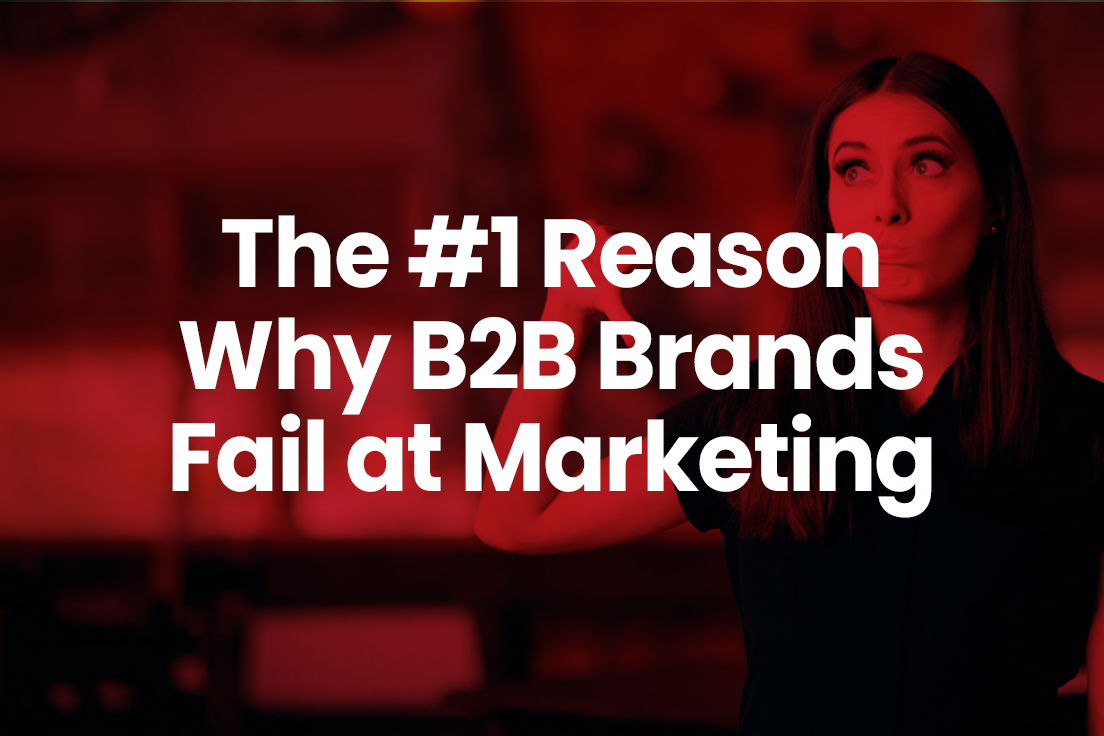 Many B2B clients who come to us for guidance have been involved with marketing their business for years but have little to show for their efforts.
These companies recognize the importance of effective brand building to support sales and growth. They often have a marketing person on staff, or even a marketing team. Over the years, the firm has attended all the right trade shows and conferences, revamped its website, and embraced social media strategies – all while trying to stay on top of the latest b2b marketing trends. Expectations are understandably high. Unfortunately, most of these attempts have gone nowhere. Results are poor from a return on investment standpoint, leaving these B2Bs confused as to what is going wrong.
The problem is often quite simple: lack of consistency. There are too many priorities deployed in too many different ways. When "let's try this" is quickly followed by "let's try that," you leave your audience wondering and confused.
This type of "hit-and-run" marketing approach is essentially a form of gambling. You keep spinning the wheel but have no idea if your latest tactic will lead to a payout. Part of the problem is that the payout, or return, is either undefined or unrealistic. Sometimes the strategy appears to work, and it looks like you have hit a winning streak. But anyone who has ever played a game of chance knows how quickly things can change. In reality, this adage often rings true: "the best throw of the dice is to throw them away."
The risks are far too high to gamble with your brand. Instead of rolling the dice and hoping for the best, companies that engage consistently with customers and prospects outperform their competitors and steadily build their brand. They start with a concrete mission, backed by a plan with actionable steps. And they execute this plan with absolute consistency, while continuously measuring to determine how to optimize and improve.
For example, one of our clients in the packaging industry steadily grew from a $7 million to $40 million company in just 10 years. How did they do it? Early on, the company, a plastic packaging manufacturer, had a limited budget for marketing. Delia Associates helped build their brand by making the most of what they already had: expert knowledge in a category niche and unique perspectives on consumer behavior. Company leadership was already confident in their ability to command a position of thought-leadership in the industry. They needed the right positioning, focus, and content strategy to execute. That's where we came in.
We created a content plan that showcased their niche of expertise and continuously reinforced a clear and differentiated brand position. We executed consistently, deploying targeted and highly thought-provoking communications monthly, and all the while, always reaffirming their brand position. The brand became known for its insight into the industry's most pressing issues and willingness to raise hot topics. Consistency became a hallmark of the brand, as a loyal core audience began to grow. With click-through rates on e-mail content routinely well over 25%, it was clear that we were reaching the right audience with the right message. Today, this client works with some of the largest consumer brands and retailers in the world. And their brand continues to thrive.
So, how do you create a consistent brand? The good news is that doing so doesn't necessarily require a hefty budget or a huge staff. Instead, you need focus, discipline and excellent execution.
First, you must determine exactly who the audience is (have a target). Then, with the same clarity, decide what you want that audience to do (define a vision). For our scenario, the target audience was consumer product brand managers. Our goal with each communication was to make them literally say, "Wow…I never thought of that!"
Your marketing outreach can be small to start – perhaps you would like to build brand recognition through a targeted e-mail campaign. Or maybe you want your brand to have an increased presence at your industry's top trade show. But whatever you choose to do, do it well – and consistently – to build a stellar reputation. You must remain focused and not be tempted to gamble on a different approach or change goals or positioning midway through your process.
Remember, it is better to do one thing really well, than do too many things haphazardly. When it comes to growing b2b brands, trying to be a "jack-of-all-trades" often equates to being a master of none.
If you want a fresh perspective or need some help, feel free to give us a call at 908-534-9044 or get in touch with us

here
.
Interested in learning more about this subject?
Please fill out the form and we'll be in touch as soon as possible.