Delia Associates Wins Three 2023 Hermes Creative Awards
April 28, 2023 10:25 am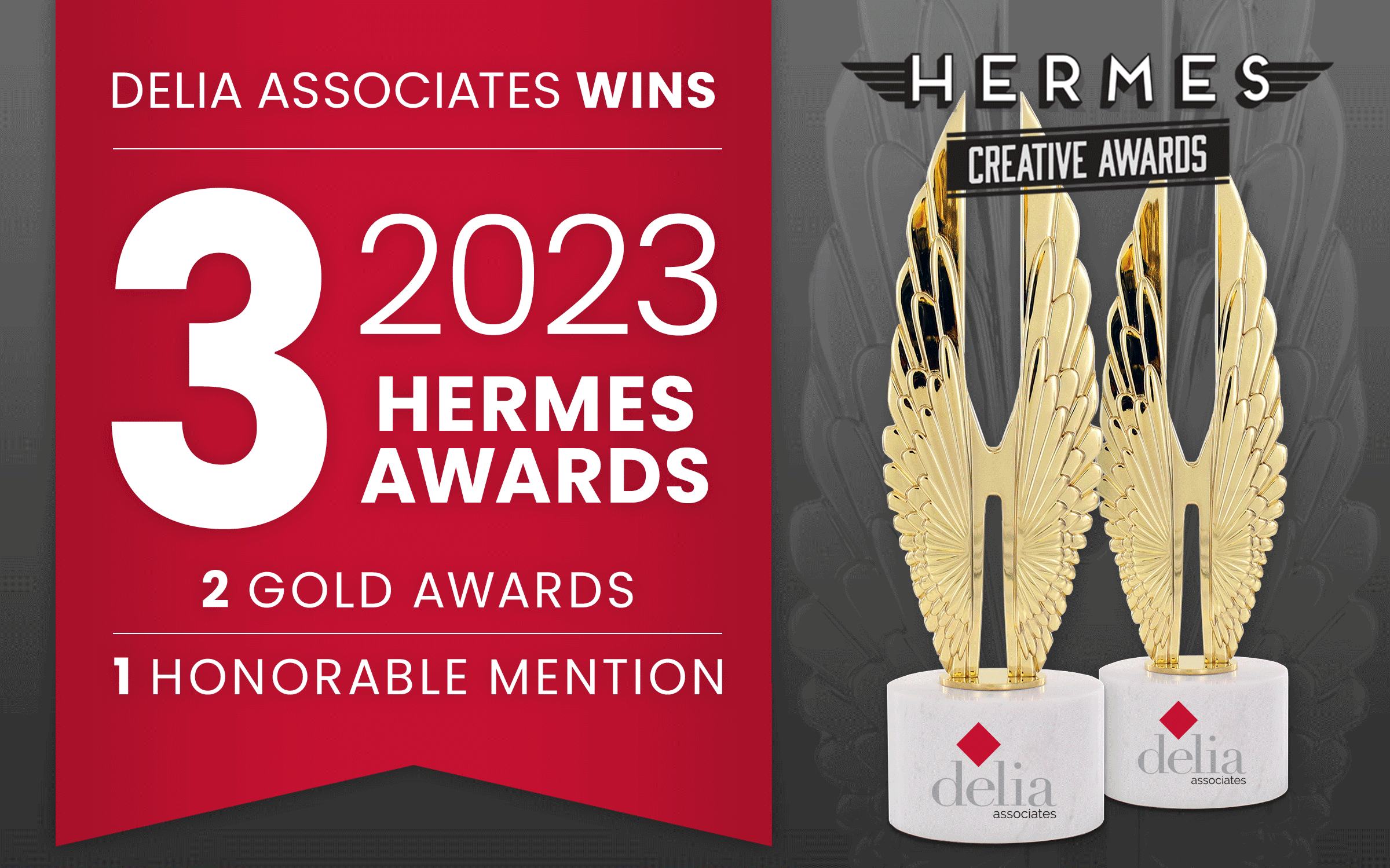 Delia Associates is excited to announce that we have won three awards at the prestigious 2023 Hermes Creative Awards competition. This international awards competition celebrates outstanding work in the creative industry and promotes the philanthropic nature of marketing and communication professionals. The competition attracted over 6,500 entries this year, and we are proud to have been recognized among the best in the industry.
Delia Associates received two Gold Awards and one Honorable Mention Award for the following projects:
Durex Products – "Screening Solutions Website Redesign" in the category of Digital Media, Website Overall, Business to Business
Pilko & Associates – "Pilko Grey Paper Marketing Campaign" in the category of Strategic Campaigns, Digital Marketing Campaign
Commercial Snow Removal (CSR) – "Preparation, Communication, Agriculture Video Series" in the category of Electronic Media, Video Series
Our first Gold award was for the B2B website redesign for Durex Products. Our team worked closely with the client to create a user-friendly website that effectively communicated the brand's expertise and product offerings. The new website has helped the client increase their online presence, generate leads, and ultimately drive business growth.
Click here

to see the "Durex Products Website"
Our second Gold award was for the digital marketing campaign for Pilko & Associates. Our team developed an engaging campaign that combined email marketing, social media, and website design to reach the target audience effectively. The campaign was a success, increasing brand awareness, and driving significant engagement for our client.
Click here to see the "Pilko & Associates – Pilko Grey Paper Marketing Campaign"
We also received an Honorable Mention award for the video series we created for Commercial Snow Removal (CSR). Our team used creative storytelling to showcase the brand's unique services and capabilities. The video series has been an effective marketing tool, helping the client reach new audiences to help grow their business.
Click here

to see the "Commercial Snow Removal (CSR) Video Series"
Jamie Rosen, Senior Director of Creative + Digital, commented, "We are incredibly proud of our team's achievements and would like to thank our clients for trusting us with their brands and campaigns. These awards are a testament to our team's expertise and commitment to delivering exceptional work that drives results and helps our clients achieve their business growth goals."
About Hermes Creative Awards
Hermes Creative Awards is one of the oldest and largest creative competitions in the world. Winners range in size from individuals to media conglomerates, and Fortune 500 companies.
Hermes Creative Awards honors the messengers and creators of the information revolution. Armed with their imaginations and computers, Hermes winners bring their ideas to life through traditional and digital platforms.
Each year, competition judges evaluate the creative industry's best publications, branding collateral, websites, videos, and advertising, marketing, and communication programs.
Award-winning History
Delia Associates has won 59 awards over the last five years… the most recent coming from Graphic Design USA (3), Summit Creative Awards (1), Communicator Awards (3), MarCom (3), and Hermes Creative Awards (3).
Interested in learning more about this subject?
Please fill out the form and we'll be in touch as soon as possible.