Marketing At Tradeshows With Twitter
December 8, 2016 3:41 pm
How to Kick Off some Great Relationships at Tradeshows using Twitter.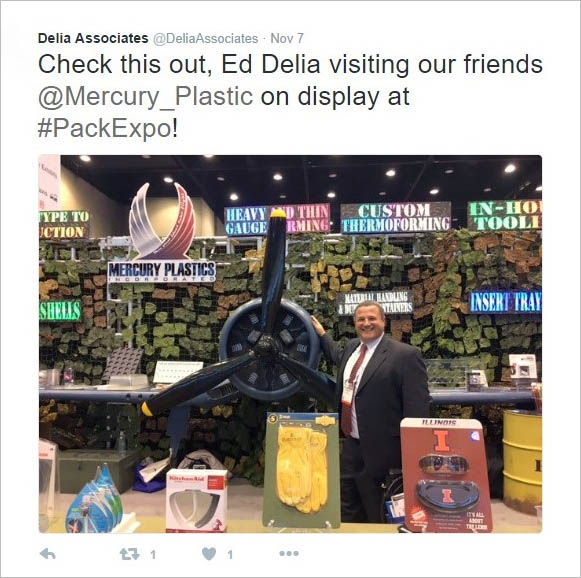 The purpose of attending a tradeshow or event is to meet new people and learn something new. And that usually doesn't happen when you gather among people you already know. It happens when you start interacting with people you don't know.
Recently, I was at a large tradeshow. Over the last 20+ years, I've been to hundreds of shows, events, large gatherings, you name it. In addition to acquiring new learning, as brand ambassadors, we also attend events to make new connections that will further build both our brand and our business. At this particular show, I determined that my number one objective was to have fun doing this.
The result exceeded my expectations, both in terms of building new relationships and having a great time. We sometimes forget that we are armed with a fun, mini media department at all times in the form of a smartphone. Link this up to social media, and you have a powerful marketing tool that can be engaged and deployed in an instant. We must always remember that brand building today is a much more active and an often instantaneous two-way engagement.
I have found that the best way to spark relationships is to talk less about myself and more about the value, benefits and accomplishments of others. As I walked around the tradeshow, I would come up to anyone with an exhibit that interested me, and start asking questions about their company, products and services. Eventually, I would ask, "Can I take a picture of you in your booth, and tweet a message to the show feed?" Each time I asked, I was answered with a resounding YES! By the end of the first day, exhibitors were posing with me in their booths, asking me to take additional photos, pulling out other interesting products to show me, and gratefully allowing me to take snapshots all the while. I would then tweet out what I saw, with a hashtag to the tradeshow, a hashtag to the exhibitor brand, a mention of their twitter names, and of course, one to Delia Associates. As a result, the exhibitors I met enjoyed some free coverage, we were re-tweeted many times by both the show and other exhibitors, I met some terrific people (potentially future clients) that I would have otherwise not interacted with, and I most certainly had fun doing it.
My advice: People like to be around people who are having fun, and are more apt to remember you and your brand if that interaction is remembered with a smile. Be quick to pull out your smartphone and celebrate those around you in an enjoyable way with pictures, or even a video. You have the power to turn any situation into a fun one. In doing so, you may have just opened the door to your next great business relationship, while casting your own brand in a very positive light.
We're here to help. Call 908-534-9044 (and ask for Ed), email edelia@www.delianet.com, or fill out the form below and we'll be in touch with you directly to discuss your brand, and how to best position it for next level success.


Interested in learning more about this subject?
Please fill out the form and we'll be in touch as soon as possible.