Learn About Compliance With The General Data Protection Regulation (GDPR)
May 25, 2018 2:09 pm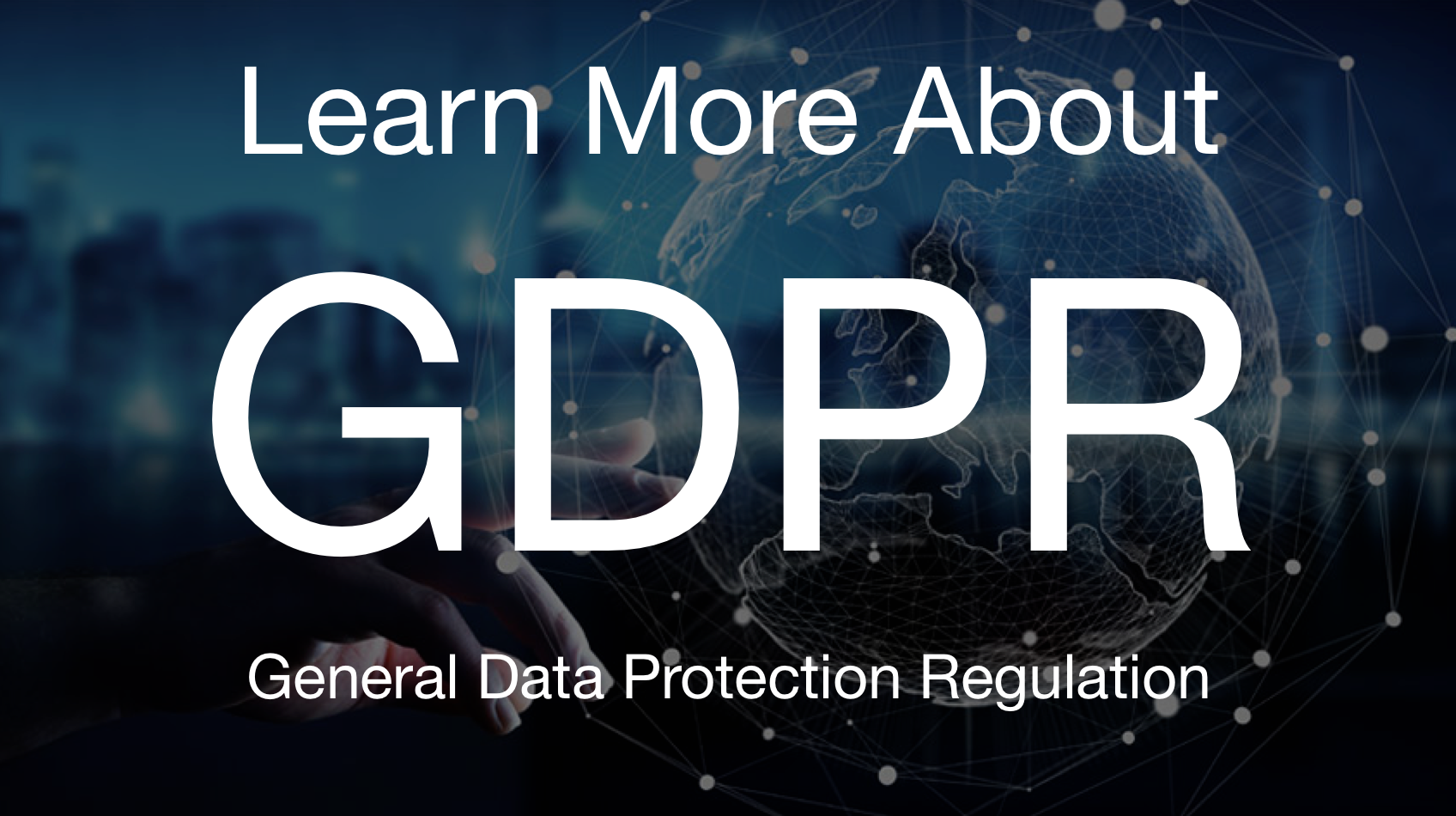 On May 25, 2018, the General Data Protection Regulation (GDPR) goes in to effect in the European Union (EU), and it may have consequences for your US-based company and your international offices.
The GDPR mandates how companies and individuals can collect and manage the personal information of EU citizens. Post-Brexit UK with also soon operate under a set of rules that mirror the GDPR.
If your business has spanned the Atlantic and you collect information on your website from individuals in Europe/UK, your website (including web forms) and emailing marketing practices must be up to the new standards by May 25, 2018 or you face stiff fines from the EU.
Here's a brief outline of some key requirements from the new regulations (the complete regulations can be found here: https://gdpr-info.eu/.
Websites (Webforms) and the GDPR
Webforms should state clearly what will be received by submitting one's info.
Webforms may not contain prechecked boxes (i.e. for ongoing newsletters, etc…)
Webforms must include an acknowledgement of the Terms and Privacy Policy and provide a link to the T&PP webpage. The Terms and Privacy Policy must indicate that personal data is being collected and stored and the reasons therein.
The information provided on the form must be stored by the site owner (business) and be available to the submitter upon request.
Webforms that are not subscription forms (contact, information downloads, etc…) should include a country field.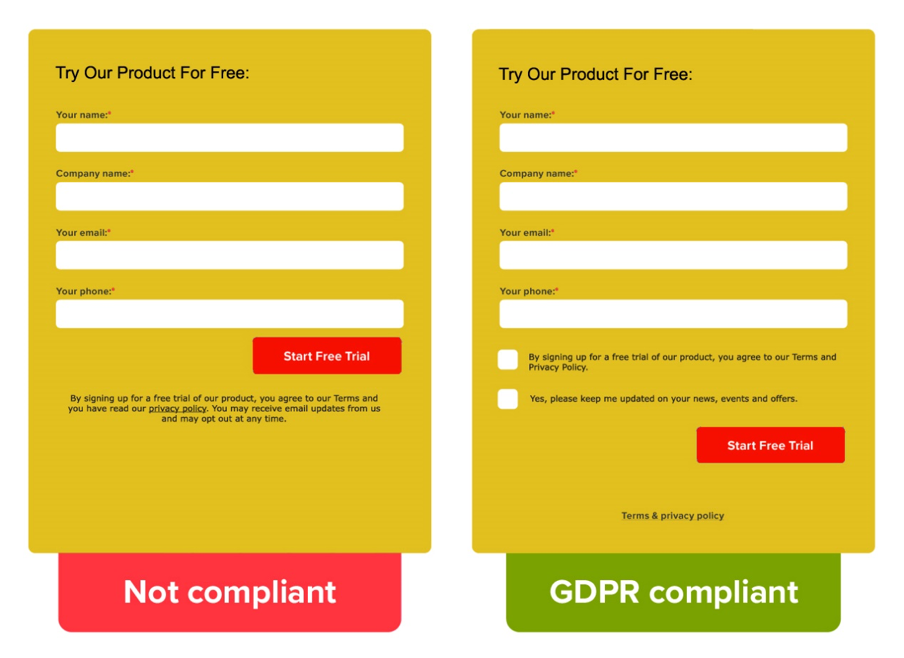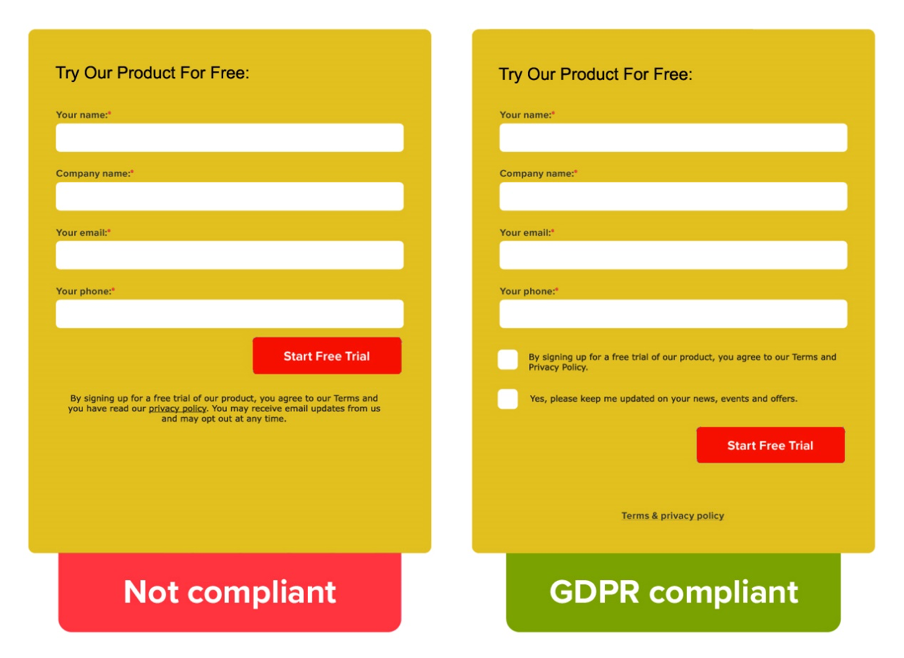 Emails and the GDPR
If you are familiar with the Can-Spam Act in the US then you have a head start on the GDPR and its effect on marketing emails.
The key takeaway for emailing practices with the new regulations is that after May 25, 2018, you are not allowed to email individuals in the EU that have not provided you with their email and personal information in the manner outlined above.  So think twice about reaching out to those 1000's of "leads" that have been stored for years in your email management system.
Other important email GDPR regulations
Email list members must be able to unsubscribe easily (one click) from your marketing list.
"Re-permission" existing European leads before May 25, 2018 using the best practices outlined above. Consider asking them to opt-in per above to continue receiving emails.
Decommission European leads that have not been appropriately (re)added by segmenting your lists and unsubscribing EU based addresses.
Make sure any third-party email services you are using are GDPR compliant!
The above steps will head you in the right direction towards compliance with the General Data Protection Regulation. Visit https://gdpr-info.eu/ for the complete requirements.
Maybe you have been proactive and are well on your way to establishing website and email marketing practices that achieve their goals while responsively handling the personal details of leads and clients both in the US and Europe/UK.
We've helped our clients prepare for the new GDPR regulations with a systematic program that brings their digital marketing assets up to "code" while at the same time increasing brand awareness so that marketing objectives are not only achieved but surpassed in many cases. In fact, many of our client's new custom websites have attributes (navigation, policy pages, web forms, etc…) that inspire confidence and trust in site visitors, immediately elevating the brand and encouraging engagement.
Our email marketing services also adhere to the strictest standards; standards that protect the integrity of the company while providing a great user experience for email prospects and customers. After all, new leads fuel the growth of all companies and we help our clients "start the conversation" with decision makers in the global marketplace.
Delia Associates clients that are currently on the Sharpspring or Hubspot platforms already have the tools in place to help with compliance. Our hosted websites are also taking steps to verify compliance.
If you have not yet explored your compliance situation, we're here to help. Contact us below to discuss your website, web forms, and email marketing practices. We'll help get you on the right track for success in 2018 and beyond.


Interested in learning more about this subject?
Please fill out the form and we'll be in touch as soon as possible.